OCCI Barn Wedding Venue - Near Chicago, IL
Located about 2 hours (110 miles) north west of Chicago, just over the Wisconsin state line, the grounds at Old Coon Creek Inn provide the perfect setting for a rustic barn wedding.
Party in our converted horse barn, spend the night in our farmhouse, and enjoy the serene setting of our outdoor wedding site by the lake.
Wedding Barn    |    Farmhouse    |    Outdoor Wedding Site
To learn more or schedule a tour, complete the contact form or give us a call at (952) 200-7158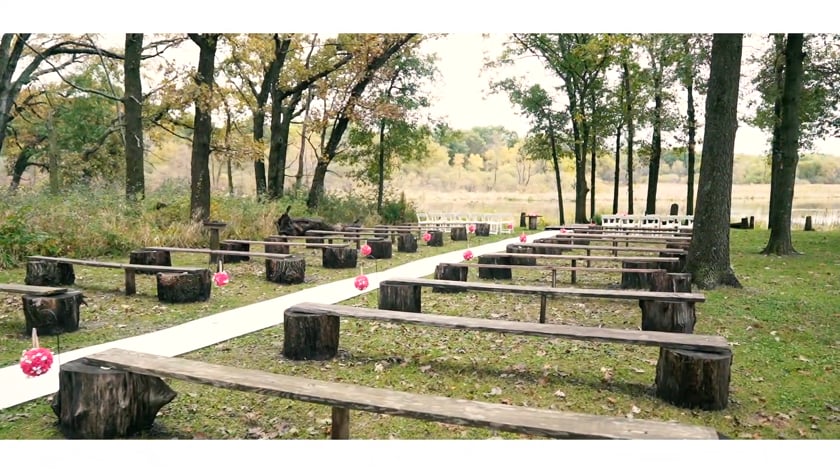 From Dekalb, IL
We're located just about a 1 hour drive north from Dekalb, IL.
From Harvard, IL
We're just about a 45 minute drive West of Harvard, IL
From Naperville, IL
The country wedding venue of your dreams is less than a 2 hour drive from Naperville.
Directions from Chicago, IL
From Chicago, follow 90W about 93 miles to the WI state line
Take Exit 1 toward S Beloit
Turn LEFT onto US-51 N, Manchester Rd (1.4 miles)
Continue straight onto Gardner St (0.9 miles)
Turn RIGHT onto IL-2 N, Blackhawk Blvd (0.3 miles)
Turn LEFT onto Shirland Ave (1.8 miles)
Shirland Ave turns slight right, becoming Frederick St
Turn LEFT onto St Lawrence Ave (5.3 miles)
Turn RIGHT onto Beckman / S County Rd H (0.4 miles)
Turn LEFT onto W Smith Rd (0.4 miles)
Old Coon Creek Inn
9001 W Smith Rd
Beloit, WI 53511
(952) 200-7158